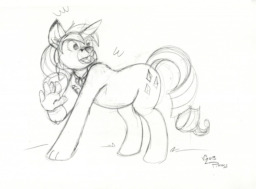 Source
Ardi was a young wolf -- not a Diamond Dog -- from the forests outside Stalliongrad stealthily wandering Equestria. Until the day he ripped off a dragon's hoard in the Everfree, got chased into Ponyville, and ended up stuck inside of a enchanted ponysuit.
With only one painfully-shy Pegasus, three little fillies, and a blackmailing baby dragon to cover for him, how long can a wolf hide out in a town full of crazy ponies intent on turning him into a wolfskin rug? Especially when he's forced to pose as not only a well-known local pony, but as one of the Elements of Harmony?
And when fear of Changelings is also ahoof in Equestria?
Thanks to some very kind fans, mainly Jordan1179, this story now has its own Tropes page: Tv Tropes Wolf In Pony's Clothing
Now with a sequel! Queen Vespid joins Rarity, AJ, and Fluttershy on a little trip to Manehattan to model some clothes for Carousel Boutique and search for stray Changelings -- who might not want to be found. Right here at Manehattan Madness
Chapters (17)