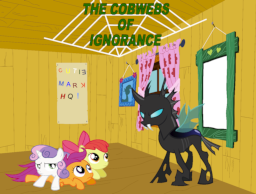 Source
While out on a cutie mark crusade, the Crusaders happen upon a lone changeling on the edges of the Everfree Forest. After a scuffle the changeling finds itself injured and trapped in Ponyville. Seeing an opportunity to earn their cutie marks the girls take the changeling in, planning to teach it about Equestria.
However what they don't know is the changeling is actually the Commander to the Changeling Empire, and he has his own plans in mind.
But soon events play out for the four as they endure the aftermath of the Canterlot Invasion, and perhaps toughest of all: Each other. Lessons are learned and stories are shared between one another, leading the changeling to question its motives, and itself. Leading it to ask the biggest question of all:
"Can creatures that's special talent is to change its appearance, change in other ways...?"
Chapters (13)