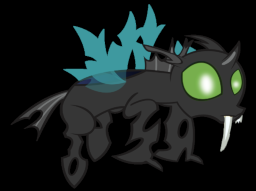 Source
We've all heard tales of what happens when changelings get taken in by ponies. However, in almost all these cases it's one of the so-called good ponies that finds and takes in the hapless insectoid. So what happens when an especially low-ranking changeling is found and taken in by an altogether less desirable character?
Well, as one might expect, things don't go to plan.
Artwork crudely modified by me, originally from: http://ackdari.deviantart.com/
First story, so constructive criticism welcomed!
Chapters (8)