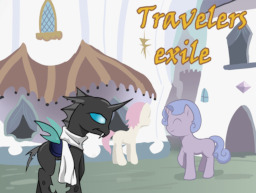 Source
This story is a sequel to My Little Changeling: Friendship is Weird
---
After the most important changeling artifact, the Evershifting Stone, is stolen by ponies, one changeling is blamed and exiled. How can he earn back his place in the hive? Find the thief and bring back the Stone.
He tracks the thieves all the way to Canterlot, which has changed a surprising amount in the past year and a half. Can he really find a thief among the confusing mess that is pony life and changeling integration?
=====================
Cover image graciously provided by Raster!
Found on Equestria Daily here!
Chapters (6)