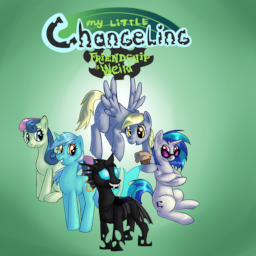 Source
This story is a sequel to Thrown Abroad
---
After the events of Thrown Abroad, Suncloak the changeling is happily living in Ponyville. Well, sort of. He needs the love of friendship to stay alive! Luckily, there's plenty of ponies who would want to be friends with him. But let's not forget about other changelings here...
You know, this would be a lot easier if the whole concept of friendship wasn't so needlessly difficult.
======================
Amazing cover art by Wolfeh! Find her Tumblr here!
Fanart!
To be found on Equestria Daily here!
Chapters (11)