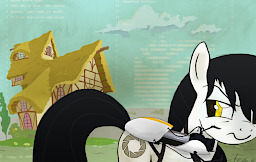 After GLaDOS is uploaded into a potato battery, Wheatley humiliates the AI even further by uploading her into a project that was abandoned by Aperture a long time ago. In the blink of an eye, she finds herself in a deformed body of flesh and bone that resembles an equine, and is just as powerless as one too. It comes with all of its needs and bodily functions as well. To make matters worse, she's trapped in a land full of insufferable creatures that just want to make 'friends.' Will GLaDOS' cold, sadistic sense of humor and morals get the better of the ponies? Or will they peel away the once artificial being's metallic shell and find that there's a softer side? Probably not, but it's worth a try.
Story Theme: Tyler Bates - I Love You (Watchmen OST)
Thanks to Meeester, MrJoshy, and funkyferret for proofreading/reviewing.
Cover by Fedte16.
Chapters (16)