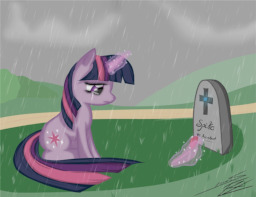 Spike is a kind, loyal, selfless dragon. To many, he's not only Twilight's number one assistant, but rather an assistant to the entire town. Tragedy strikes when the adolescent succumbs to a fatal illness. It hits the townsfolk hard, especially Twilight Sparkle.
Sulking in her own despair, the faithful student asks herself the same, fruitless question: 'How does one cope with losing their only son?'
Sadness Porn at its smuttiest. You've been warned.
Chapters (1)