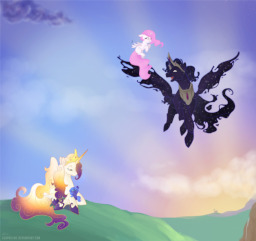 Princesses Celestia and Luna are in for quite a shock when they get a surprise visit from their own parents: The rulers of the galaxy itself, King Artemis and Queen Solianna.
They haven't visited Equestria in two million years, and are excited to see what a great job their little 'Tia' and 'Lu-lu' has done. Unfortunately, the rulers of the galaxy are a bit 'out of touch.' What will they think of Luna's temper tantrum 1,000 years ago? Or Celestia's humiliating defeat at the hands of a giant love-bug during the wedding?
And of course, what about their faithful subjects, especially Twilight Sparkle and her rather interesting companions? And what will the subjects think when they realize the creators of the galaxy are just a couple of wackjobs?
Fic adopted by Cartoonlover13
Chapters (2)