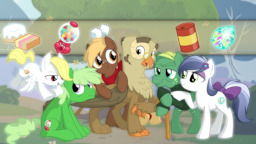 The magic of friendship flows through every creature, big and small. They just need a little push in the right direction. Tired of living under their masters' neglect, insanity or just plain monotony, the pets all desire (in one way or another) to take life in a new, more exciting direction.
When a mysterious curse is laid on the Elements of Harmony, turning the bearers into pets and their pets into ponies, the misfits embark on a dangerous trek to break it. What was originally meant to be a quick trip around Equestria turns into a harrowing journey that expands from the comfy suburbs of Ponyville to the forgotten ruins of an underground kingdom to the biting tundra of the north, all filled with odd characters, laughter and an evil that has lasted for generations as the pets each embrace their inner hero. Because as we all know: the greatest of legends always start with the smallest beginnings.
Story Theme: Matthew Perryman Jones - Swallow the Sea (Pt. 2)
*Guys, I appreciate every bit of feedback I get, but can you do your best to be constructive? I'd like to know what I did right, what I did wrong, and where I can improve so that this story could be at its best.
-----------------------------------
Thanks go to the beautiful MrJoshy, Rainbow Bob, Vexy, Astrocity, Skeeter the Lurker, and funkyferret for editing and reviewing.
Credit for image and title go to Shawnyall and Equestria-Prevails
Chapters (2)