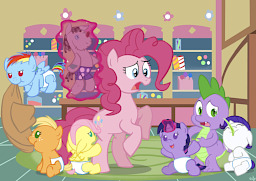 When Twilight receives a sickness that causes her magical surges to spin out of control, she accidentally turns the rest of her friends into foals - including herself. Luckily, (or not so luckily), Pinkie Pie was out of the mix, but now she has to take care of the five out-of-control foals before they wreak havoc on the entire Sugarcube Corner. With the Cakes gone, Pinkie must take up her responsibility as the perfect foal-sitter. Will she come out victorious?
Or will the pressure overwhelm her when the hope of her friends ever turning back to normal is lost?
This story has a sequel!
Chapters (1)