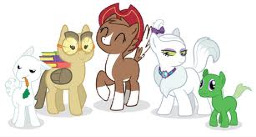 Source
It's nearing the summer sun celebration, one year after Twilight arrived, and things are not going according to plan.
Preperation is behind schedule, supplies are still needed,
And to top it off, Twilight has accidently turned her friend's pets into ponies!
Without an easy antidote and time growing short, the mane six decide to let the pets help them in the celebration.
And they'll need all the help they can get.
Chapters (20)