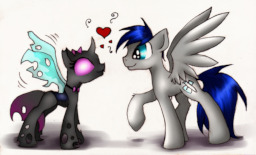 Source
After her jettison from Canterlot, Lilo is discovered by a rather malicious and motivated unicorn. Although he employs her to work for him - if it can even be called employment - slowly she is succumbing to hunger as her love stores deplete. She needs to find another source of love fast if she wishes to survive, but when she comes across a certain pegasus, she must decide for herself whether or not love is real or just a chemical reaction.
Check out the sequel, Violets are Blue, here!
Cover art by KairaAnix. Check her out here!
Disclosure: My Little Pony, Friendship is Magic © Hasbro, DHX Media. The characters, along with the names of the locations depicted in this story, belong to Hasbro and its respected affiliates. In no way do I plan on redistributing or selling this story in the means to make a profit unless I have consent from Hasbro itself.
Viewer discretion is advised for scenes of:
-Suggestive Themes
Chapters (14)