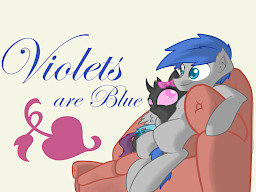 Source
This story is a sequel to Roses are Red
---
Two years since the events of Roses are Red, Lilo and Carbon have come to grow closer to each other more and more. With Lilo now set on having what appears to be a permanent love source, and with Carbon seemingly happier than ever, the two have managed to form a powerful romantic bond. However, when an enemy returns who they had previously thought to be long gone, one of them must come to terms with the horrible realities behind securing their relationship.
Warning: Spoilers in the comments.
The sequel to Roses are Red is finally here! Please make sure you read that story before starting this one. (Optional, of course, but it would be quite silly if you didn't)
A big thanks to Redracer and Happycamper for proofreading my chapters.
Disclaimer: My Little Pony, Friendship is Magic © Hasbro, DHX Media. Certain characters, along with the names of the locations depicted in this story, belong to Hasbro and its respected affiliates. In no way do I plan on redistributing or selling this story in the means to make a profit unless I have consent from Hasbro itself.
View discretion is advised for scenes of:
Suggestive themes
Violence
Chapters (13)