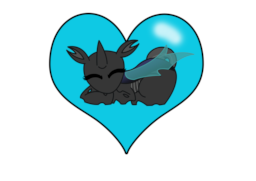 Once upon a time, there was a young unicorn who was scarred and battered by the cruel world until he was forced to retreat behind the walls of a solitary life as a bitter and spiteful creature. As he grew up, he remained a lonely recluse, with only his best friend for occasional companionship.
Until one day when he found something the world had treated even more callously and cruel than himself. She was a changeling, badly wounded and crushed until she hung onto life by a slender thread. The only chance she had for surviving her injuries was love, but that was no chance at all, for she was a monster in pony society.
And who could ever love a beast.
Rated T for references to sex, crude language, obnoxious behavior, and weathervanes.
Editors: Peter, docontra, D48 and Tek
Cover picture FIM Sleeping Changeling is courtesy of Avarraptor at Deviant Art.
(Gypsy the Changeling is so cute.)
Chapters (20)