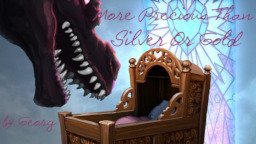 The worth of a dragon is measured by their hoard, so what happens when a dragon finds something so valuable as to make all other hoards small by comparison, but so precious they cannot keep it for their own?
A young dragon discovers the answer when she finds the priceless treasure kept by the Sisters of Song.
A tiny alicorn, named Cadenza.
Editors: Tek, Skywriter, PaulAsaran, Mitch H.
Cover picture credit: Harwick on Fimfiction or Harwicks-art on Deviantart.com
Wonderful reading by Illya Leonov here on YouTube
A guest author part of the Cadence of Cloudsdale series by Skywriter, set several decades before the second chapter of The First Time You See Her and the blessed Sister Kale.
Chapters (1)