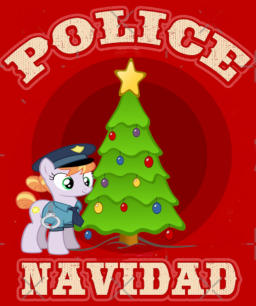 On a cold Winter night, Police Chief Miranda Rights tries to arrest a very special visitor. With gifts.
Meant as a gift to Estee for the Tryptych Continuum and in particular Miranda Rights, the beleaguered and frequently overloaded Ponyville Chief of Police in the center of Chaos. (and occasionally host to Discord) Rain or shine, quiet nights or rampaging monsters, the thin blue line of the Ponyville police never breaks. (although at times it frays a bit)
Cover art patched together from several sources including Copper Top the police pony and Jean Sapin for the Christmas tree vector.
Now featured on Equestria Daily
Chapters (1)