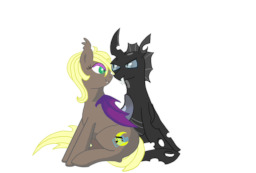 Source
Meet Level Ledger, your average, well-read unicorn colt. He has a talent with numbers and systems, which is why Pegasus Air was so interested in acquiring his talents. They use him to make sure their books are balanced. Both the legal ones...and the ones that'll never see the light of day.
Meet Midnight Song, your not-average, well-trained Thestral mare. Everything she sets out to do, she accomplishes with aplomb. When she rises a little too quickly through the Day Guard's ranks, her superiors decide she needs to cool off and learn a bit about how to be a mature member of the Guard. Not a bad idea, seeing as she's a massive flirt.
When Level's rent goes up, he needs to take a roommate or risk being thrown out into the street. A twist of fate will see these two souls coming together and having the time of their lives.
Now, if only one of them could tell the truth to save their life...
---
A collab fic worked on by myself and Ausbrony. We liked the setting of Las Pegasus and the villains of Pegasus Air a lot, so we put our heads and characters together, and this came from our efforts.
In lieu of a list of dates, I will simply say that this story tends to get featured every time I update it for a short while at least. And I am very happy about that fact.~
Chapters (111)