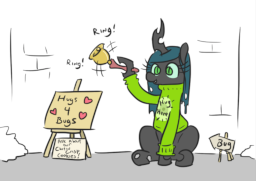 Source
Reformed changeling Thorax approaches Spike and Twilight with a royal dilemma: reforming Queen Chrysalis. Twilight thinks she knows just the mare for the job - and that mare has a peculiar solution.
Takes place between "The Times They Are a Changeling" and the end of Season 6.
---
Written for NaNoWriMo 2021
Story inspired by cover art used by jargon scott.
---
Featured as of 01/04/22! Thank you all so much!
Chapters (1)