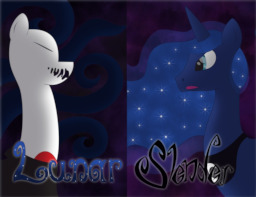 Source
This story is a sequel to Return to Slender
---
Equestria is ruined... and now is almost empty.
Soon the great beast's insatiable appetite will take every stallion, mare, and foal in all the land. The only remaining hope is a band of gods and monsters led by Princess Luna herself. Each with their own reasons for the quest, they will do what they can to ensure the salvation of what remains of Equestria.
In the end, it will be the Princess of the Night who stands alone against the most unfathomable of evils... and will finally uncover the origins of the Slender One.
Chapters (4)