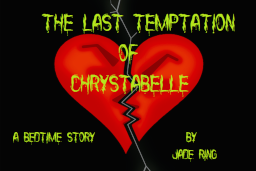 "It's getting late, my love. I hope you enjoyed your dinner. I knew that you'd appreciate a quiet evening at home after such a long, hard day at work. Now that the dishes are washed and the little ones are asleep, let's enjoy a little alone time before bed. What's that? Of course they're asleep already; they went down like a dream. I just told them a story and off they went.
What story? Oh, just an old folktale my mother told me. A little story about love and loss, about a beautiful lady, a passionate love... and a broken heart.
You'd like to hear it? Well... if you insist.
Once upon a time..."
////////////////////////////////////////////////////////////////
Day 3 of the Seventh Anniversary Story Bomb.
Chapters (1)