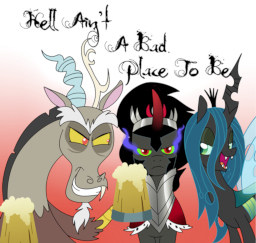 (In the process of being rewritten)
After his defeat in the Crystal Empire, Sombra is sent to Hell to suffer for his sins until the end of time. However, it turns out that his eternal punishment is not a lake of fire, but rather a combination of annoying neighbors, trivial work, and disgusting beer. Will Discord and Chrysalis be able to get the angry newcomer to loosen up and enjoy his eternity?
*AU: This story assumes that all major FiM villains, save for Nightmare Moon, died at the end of their respective episodes.
Cover image by Madmax (text added by DJ Indie Cred)
Chapters (1)