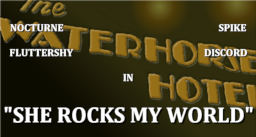 My life
WIll never be the same
'Cause, girl, you came and changed
The way I walk
The way I talk
I cannot explain
Nocturne and Spike are two guys out on the town, when they see a gorgeous mare walking the streets, looking for a little security. The hapless duo follow her, and get neck-deep in mayhem: gangsters, dancers, bar fights, fires, and a boss that makes things a little "chaotic". Nocturne wants to pursue this mare, though--she's everything he could possibly want, and more.
A little something born from my love of ponies and the music of Michael Jackson. Based on and inspired by MJ's "You Rock My World" music video.
DRAMATIS PERSONAE:
Nocturne (OC) -- Michael
Spike -- Chris Tucker
Fluttershy -- the pretty girl (Kishaya Dudley)
Discord -- "Big D" (Marlon Brando)
NOTE: "You Rock My World" was performed by Michael Jackson, written by Jackson, Rodney Jerkins, Fred Jerkins III, LaShawn Daniels, and Nora Payne, and was distributed by Epic Records. The music video was written by Jackson and Paul Hunter, and was directed by Paul Hunter. I do not own the lyrics shown above, and some changes made to any lyrics in story are in keeping with site rules. Thank you.
Chapters (8)