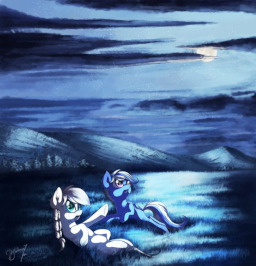 Katie Sinclair was once just a normal 11 year old girl that lived with her mother in Georgia. However one day she woke up to find the world not the same way she had left it, instead she was now a Pegasus Filly and had no idea where she was or what happened to her mom.
Along with a Zebra filly named Alicia Davis, Katie sets out from her hometown to try and find out what happened to the world, and to her mother.
---
Set in Starscribe's Ponies After People universe.
Cover made by Shivannie.
Chapters (8)