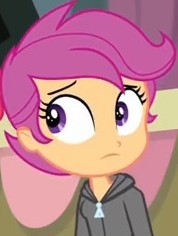 All Scootaloo has ever really wanted is a family, and the closest she ever got to it growing up in a foster home was an older girl named Sunset Shimmer who became her big sister. But once Sunset started to go to Canterlot High School, she vanished for a couple of days before coming back, different than the younger girl remembered.
She later finds out that the Sunset that returned wasn't the same Sunset that she had become close to. She tried to ignore it and move on, but the same question kept nagging at her mind.
What happened to her big sister? And what will she do now?
Chapters (2)