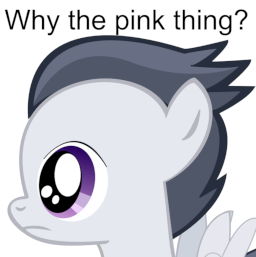 Rumble's got his cutie mark! Yay!
And he's hiding it. He doesn't seem too happy about it. Yay?
Making his way to the library for some advice from Twilight, Rumble must now come to terms with the talent that Fate has bestowed upon him.
Easier said than done when your cutie mark is an embarrassing one.
Submitted to the second Author Support Writing Prompt, with the theme "You are a foal, and you have just received your cutie mark."
The original got positive feedback, and very helpful comments. It actually won the prompt, which was quite a surprise considering the rush job. The comments have been heeded, hopefully this version is better content-wise. Some scenes are radically changed compared to the original, hopefully for the better. My thanks to BronyMaster; Peregrine Caged, SunnyDaze and Tricondon, this story would not be the same without your input.
Edit: While it's been in the Padded Cell for a while (no clue how it got there and how it got there so quickly), it is now also posted on Discord's Domain, since Equestria Daily is just too scary for me. Exuberance!
Edit again: No more Padded Cell? *le sigh*
Edit 3: Return of the Author. Now gotten under the hooves of WRITE, and reception was positive. Some alterations may happen at a later date.
Chapters (1)