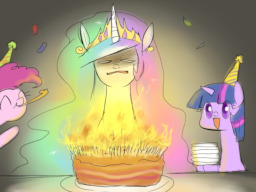 Source
It's that day. The one day of the year that Celestia dreads more than anything in the world. And too bad for her, everyone seems intent on making her go through such an awful occasion. Well, at least she gets cake at the end of it.
Thanks to my editors Skeeter The Lurker, Xl9 and The Abyss for all their help!
Art from the very talented http://yubi-note.tumblr.com. Go check them out!
Chapters (1)