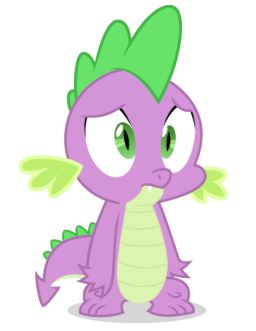 Source
For years now, Spike has been known as Twilight's baby dragon. But how much longer is he to remain a baby? When can he finally be teenager, all leading up to a big, strong adult dragon? With each passing year comes more questions and even less growth on his part, him staying the same size as ever. It is only with a final confrontation with Twilight on his thirteenth birthday does Spike learn the real truth. Dragon immortality isn't all it's cracked up to be.
Thanks a ton to my incredibly awesome and talented collab partner Draconian Soul, who you guys should definitely check out for some really rad stories!
Another big round of thanks to my editors Xl9, SolidFire and mikemeiers for all their expert help!
Chapters (1)