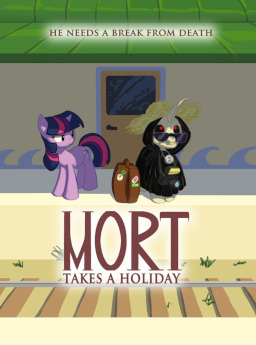 Source
Mort, also known as the Pale Pony (of Death), has been tasked to take time off from his rigorous duties of reaping souls. Seeking guidance, he is directed towards the town of Ponyville, to learn about the magic of friendship from Twilight Sparkle and her friends. All he needs to do is keep his true nature a secret. That shouldn't be too difficult...right?
Special thanks to Specter-Von-Baren and Pyrite Foolsgold for their help in proofreading and editing this story, as I really needed it. Additional thanks to Pilate, Chuckle5, Unimpressive Vagaries and Admiral Biscuit as well! Couldn't have done it without all their help!
Credit for the title card goes to Siansaar, AKA Carnifex.
For another excellent take on Mort, check out Sip's version!
Chapters (14)