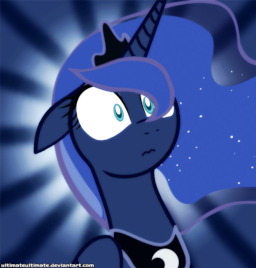 Source
This story is a sequel to Dear Princess Celestia: I Hate You
---
"Dear Princess Luna... I love you oh so much. I just want to be with you forever, lost in your embrace. While mere words cannot even begin to describe the depths of my feelings for you, but this letter will have to do."
Twilight is at it again with hitting the bottle and forcing Spike to put words on a letter. This time addressed to Princess Luna herself, who is quite surprised by the gesture. Even more surprising in the revelation of Twilight's feelings for her. Along with some other... quite questionable subjects.
Warning: Not so subtle sexual context.
Sequel to Dear Princess Celestia: I Hate You.
Thanks to my editor Xl9 for all the help!
Chapters (1)