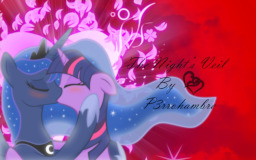 Source
It's been a week since Nightmare Night, and Twilight can't seem to free her mind of Luna ever since their unique farewell. Her starry flowing mane, her pristine teal eyes, her gleaming dark sapphire coat. It's only going to get worse for our studious mare when one night Luna shows up and has a request.
A date. Comedy, Romance, and even some drama heading your way.
Proof-readers :MasterJedi and DJ GarV the Expert
Criticism is always welcomed.
Teen rating for alcohol and adult themes.
Chapters (4)