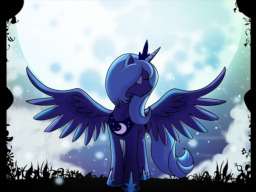 Source
Twilight travels to Canterlot to comfort Princess Luna. Thus she spends much time with the royal alicorn -- but not only in the living realm of Equestria. Strange dreams of the regal mare start to overtake her sleep, and soon Twilight realizes that the Princess is triggering feelings she has never felt before.
Can Twilight admit her emotions to Luna? If so, how? And then why is Luna turning into Nightmare Moon again?
Read and find out.
___
A/N: Fic is going to be a TwiLuna shipping (no clopfic).
Plus, the story may get dark/adventurous or sad, I'll add the categories when there is actually a part of that category in the actual story.
Chapters (5)