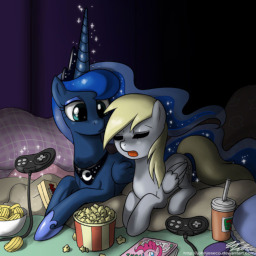 Princess Luna and Derpy Hooves are best of friends and share a love of gaming. They play, they own, and they dominate in the online gaming world. They're just freakin' awesome alright? Gaming is what brought these two together as friends but as time goes on (and Princess Celestia's antics) will this love of gaming bring them something more than they expected? Will they become More than Gamers?
Wrote this while I was blasted and drunk so if you hate it... I don't blame you at all. It's going to be a chapter fic so yeah, deal with it.
Based off the Ask Princess Molestia tumblr but a bit more tame... I think?
Rated T for alcohol, minor language, and a whole lot of sexual themes and what not. C'mon, if it's based off a Princess Molestia tumblr and you really don't expect sexual shit, then you need to be sent to the moon.
Chapters (22)