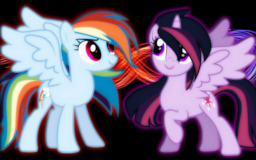 Source
This story is a sequel to We're Sisters!!!!
---
After the return of Princess Starry Night, Celestia and Luna couldn't be anymore thrilled.
The whole royal family is happy. Twilight and her friends finally get their stay in Canterlot for a week, plus Rainbow Dash's coronation is coming soon. But there is still one problem; can Twilight and Rainbow learn the ways of true heirs of the throne?
Meanwhile, Starry Night has to learn the ways of modern Equestria with the help of her nieces.
---
Additional Tags: Rarity, Other, OC
It is requested that you read the prequel first, or you might WILL be confused.
Made popular 1-13-18 YAY.
Rated teen just to be safe for later on.
Chapters (3)