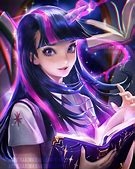 Source
In order to get more familiar with human world's customs, Twilight decides to visit once more. In an attempt to practice magic while in the that world, she casts a special spell while entering the portal, which keeps her magic inside her body.
She arrives during the Canterlot Halloween Party, where Sunset Shimmer reveals that they're hosting a contest for the "Best Vampire Costume". She decides to enter with her friends... however when the sun goes down she finds out that casting the spell while going through the portal has a nasty side-effect: more Equestrian magic has started seeping through it and has started turning everyone in the school into their costumed characters!
Twilight and the humane six must now track down anyone affected by the spell before they escape and wreak havoc upon the city… While trying to find a way to reverse the spell, and also fighting off their own thirst for blood...
* * *
Story requested by Alphamon_Ouryuken. I'm so sorry it took so long, dude!
Chapters (1)