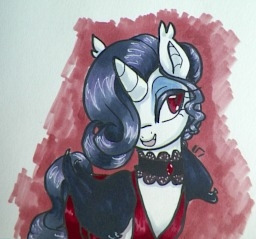 Twilight's life has just fallen apart. With basically nothing left, she's forced to move out to Ponyville just to be able to afford rent. It's there that she makes a powerful, but dangerous friend named Rarity.
Rarity is one of those sorts, who lives for indulgence and breaks rules simply for the sake of breaking them, rumors even go as far as to claim she's a vampire. Twilight had always avoided such delinquents, living her life by all the rules up until now. And yet Rarity is different. The things she says makes sense, and the forbidden pleasures she offers Twilight are beautiful.
And slowly Twilight begins to wonder whether Rarity is offering her corruption or enlightenment. She wonders how far she'll let Rarity pull her along. Hopefully not enough to become a vampire.
---
Popular 5-20-18
Chapters (16)