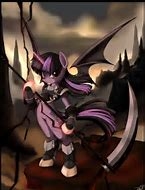 This story is to help me write better.
---
[This story takes place in The Magic is Friendship, parts one and two]
---
Though Nightmare Moon is defeated, Twilight is not set free from her wrath unchanged.
---
THIS STORY HAS BEEN REDONE ENTIRELY.
Sex tag for some sexual themes for a few scenes throughout the story.
Chapters (11)