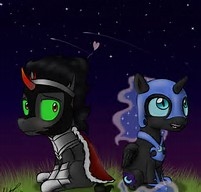 Things aren't right. Ever since the defeat of Nightmare Moon, Twilight Sparkle has been having visions of a life that is not hers. Or… that's what she thinks. Secrets long buried are about to bite back, truths come to the light and a conspiracy unravels. After all, how is Twilight to accept that her real parents are ponies that history says are threats to the land.
Inspired by Born Treacherous.
The Dark and Horror tags are for a later chapter. Crossover tag is for certain characters.
Chapters (4)