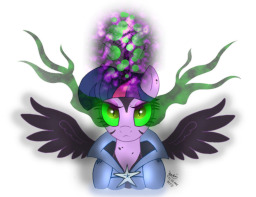 Princess Twilight Sparkle is the only daughter of the queen of the night, Nightmare Moon, and the lord of shadows, King Sombra. She is unlike any other normal equine foal, mainly because she was born as an alicorn. Just like her parents, she has the acute ability of harnessing the full power of dark magic to the fullest of its power. Her and her parents rule the Crystal Kingdom with an iron-hoof with a strong and loyal alliance with the Griffon Kingdom. They are planning one of the biggest attacks on Equestria in over a thousand years. The great thing about their plan is, their enemy has no idea about it.
Unfortunately, they are dealing with the princess of Equestria, Princess Celestia and her most loyal of guards, Rainbow Dash, Fluttershy, Rarity, Applejack, and Pinkie Pie.
The gore rating is for death and torture in later chapters. The teen rating may change depending on how I write how the death's and torture occur.
I got this idea while listening to the black metal band Dimmu Borgir with heavy rain in the background.
I DO NOT OWN anything My Little Pony. All rights to the characters and the locations of the show are sole property of Hasbro.
Chapters (3)