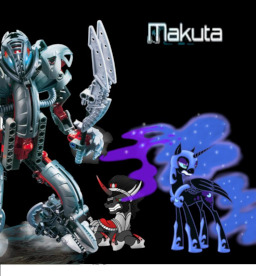 Makuta Teridax, the name is almost synonymous with fear, the darkness, corruption, and evil in the universe that was cursed with his presence. But when the Great Spirits that rule it finally have him trapped they seal him in a weakened state, and put him in a lethally flawed mechanical body. They then exile him to another universe with no hope of return. A universe filled to the brim with magic and light and talking ponies.
Surely this is a world that is ripe for the picking. But Makuta's plans for world domination are cut short by a pair of would-be allies, this world's so called emissaries of the darkness. Nightmare Moon and King Sombra pledge to follow him, but their help only seems to hinder his efforts.
Will the spirit of shadow learn the magic of friendship? I sure hope not.
A bionicle meets my little pony story, because it's the only crossover combination more stupid than Doctor Who meets MLP, oh yeah, this world is completely different from my Vortexes are Magic universe, different Nightmare Moon and Sombra personalities as well.
Rated teen for possible gore
Sources; (I put the two images together, but neither are mine) http://www.fanpop.com/clubs/king-sombra/images/32672968/title/sombra-photo
and http://custombionicle.wikia.com/wiki/Teridax
Chapters (11)