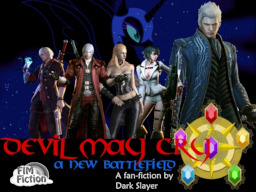 PS: Takes place after the events of Devil May Cry 4 and the original story-line. DmC has no relevance to this story.
Since their beginning, the ponies of Equestria have been protected from evil by the alicorn shield. But these protectors have made the grave mistake, of refusing to kill their enemies. Now this decision comes back to haunt them, as the once defeated demons of Equestria return with a vengeance. As well as some new friends to boot.
They need help, beings that are no strangers to the dance of death, and would take the life of a demon without a second thought. Beings that would protect them from the apocalypse by blade and bullet...
The time draws close for Equestria's grand finale.
(Rated 'Teen' for strong language, violence and gore.)
Featured (briefly): 26/04/2015
Act 1: The Return of Evil
Dante, Nero, Trish and Lady are thrust back into the demon slaying stage as they are pulled to an entirely new world, with an all too familiar problem.
Act 2: Something Dark This Way Comes
With the return of the Dark Slayer and the realisation of the coming battle, the Demon Hunters are faced with their biggest challenge yet. They must travel to the Hellgate with their new friends and destroy the demon menace once and for all.
Act 2.5: Double Winged Devil
Shadowed by a mysterious and dangerous foe, a newly transformed Rainbow Dash follows in the Demon Hunters footsteps, determined not to be left out. She will have her revenge.
Act 3: The Eternal Night
Trapped in the Nightmare's lair, the Demon Hunters and their allies must face their destiny head on. They must eliminate the source of the scourge from the inside out to survive.
Act 4: Screaming Souls
Cast off your pride, quell your fury, stand tall and resolute. The end draws near and only one obstacle remains. He must be stopped.
Chapters (17)