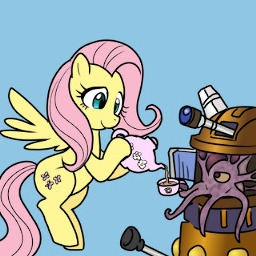 Source
The Daleks invade Equestria, but the combined power of the Doctor and the Princesses was enough to dispose of the ship and it's monstrous crew... that is, except one. Dalek Sar disgraced himself, and as punishment had his self-destruct disabled, had his connections to the rest of his race cut, and was stripped of many of his armor's powers. The fallen cultist of Skaro was then left to die, facing the Doctor head on while the others remained safe on the ship.
Never have they been so wrong. Alone and powerless Dalek Sar is captured, and then taken in by a small, cowardly, pegasus to live at her animal home. Through events no one could explain, he has made Fluttershy his eternal commander. And him, her eternal protector.
But when Celestia needs to have Fluttershy reform another powerful monstrosity. Discord, the spirit of chaos. We've all seen how Discord wrecks her home, pushes her to the limit... but what would her own alien death machine have to say about it?
Based on the terrible beginning to one of my other stories, Vortexes are Magic (it gets a lot better later on), but it'll play out very different. Warning, may(I'm undecided) contain lethal levels of Fluttermac in later chapters.
Chapters (6)