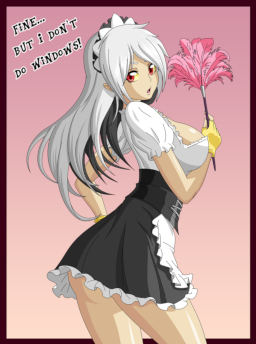 After a night of accidental debauchery that she cannot seem to remember, sophomore student at Canterlot Community College Fluttershy wakes up to find a strange woman named 'Eris' standing at her door! The strange woman claims that she's going to be Fluttershy's new live-in maid of all things! But Eris is far more than just a strange, seven-foot-tall woman in a French maid outfit... she's the human world's nascent spirit of chaos! And whoever heard of a spirit of chaos washing clothes and dusting shelves?!
Not to mention Eris's sudden reappearance has stirred up other ancient magical beings from their slumber, including the savage Queen Umbra, the enigmatic Chrysalis, and the Paladin-Goddesses Selene and Amaterasu.
But as crazy as the situation may be, perhaps things will work out for the best? Fluttershy's been incredibly lonely ever since the rest of her friends from Canterlot High went off to other colleges. And underneath all her bluster, maybe... just maybe... all Eris needs is a friend to convince her she isn't alone anymore.
...or maybe Fluttershy's cottage will be washed away in a tsunami of caramel-flavored cottage cheese.
...Yeah, that sounds about right.
Contains: Older!EqG!FluttershyxRule63!Discord
(Author's Notes: Crossover between Equestria Girls and Miss Kobayashi's Dragon Maid because I'm apparently a hot pile of otaku garbage. The first few chapters may closely resemble some episodes of the anime, but it will diverge from there. This takes place in the near future of an alternate EqG universe because I've only seen the first Equestria Girls and don't really care enough to watch the others. Also because I'm not gonna write them with "Doug" skin colors. They've still got the multicolored hair, but they have human skin. Because I said so, that's why.)
(Teen/Sex rating is for comical nudity, lewd discussions, possibly-too-in-depth descriptions, and maybe some light touching, but there will be no explicit sex)
(Cover Art credit goes to ZantyARZ)
Chapters (2)