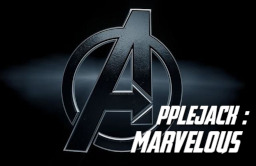 The last thing Applejack remembers, she was going out to tend to the south fields one day. She had just left the house and then... a blur. She found herself someplace else entirely. Loud, spattering noises surrounded her. Strange people were trying to hurt her. Her very body was twisted and wrong.
When she awakes from what should have been a nightmare, she discovers it was all too real. She's been trapped in another world, in a body that she can't even recognize, let alone control. To make matters worse, her natural Earth Pony magic is reacting to her new environment in strange and disquieting ways, intensifying to truly dangerous levels causing her to break nearly everything and everyone she touches.
Thankfully she's been offered help. A group of remarkable people is offering to take her in... assuming she can aid them in return. There's a man in a suit of armor. Another who carries a shield. One who carries a hammer. One a bow and arrow. One is a woman who lies just a little too much for Applejack's taste. And one of them is very, very angry.
Applejack will have to come to not only understand her new body and abilities, but also come to try and understand the meaning and value of honesty itself as she's put to the test in ways she's never anticipated. In this world of endless conflict and threats beyond any she could have ever imagined, does Applejack even stand a chance of finding her way back home?
Teen rating for mild blood, some death, and occasional mild nudity and lewd jokes.
Character and genre tags may be altered as necessary as the story progresses.
Chapters (11)