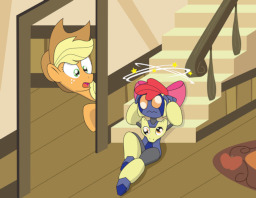 Applebloom just wanted to spend a day with her friends, crusading for her cutie mark. Instead, she found something even deeper and more troubling about herself. Turns out she's not even a member of the Apple Family by blood. In fact, she's not even truly native to Equestria! She's an alien! An alien robot no less!
Now Applebloom will have to deal with the reality of her origins and try to cope with them and her newfound abilities as she moves towards her future; a future that just might never come to be if her new foes have anything to say about it. Decepticons are, after all, a monstrous cabal.
Now, it's up to Applebloom to light Equestria's darkest hour.
Cover image credit goes to Inspectornills
Chapters (12)