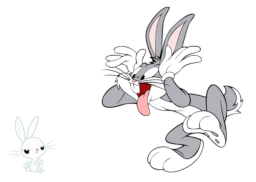 Angel receives a startling letter from a distant cousin. That's right, Bugs Bunny is coming to town.
Tagged Alternate Universe for violating MLP physics (and any physics). Repeatedly.
Bugs Bunny is anthropomorphic but the ponies aren't. Still doesn't qualify for anthro tag... I think.
Edited by: The wonderful and talented Word Worthy!
AN: ROBCakeran53 originally had this idea. To both of our knowledge this hasn't been done before so... flips tables You are currently reading trash I'm making for my writer's block. Comments with constructive criticism appreciated. Oh the nostalgia!
Chapters (2)