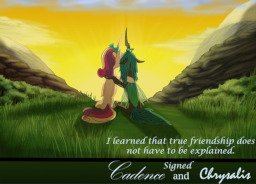 Source
A long time ago, even before Equestria was founded, there lived 2 living beings. One was an Alicorn, the other a Changeling. The first one was living the good life in the Palace of Creation and this together with her sisters, brother and her mother, the Almighty Fausticorn. But she was unhappy. Why you ask? Well, we can't spoil the story, now can we?
The Changeling was not so fortunate. After running away from her father's hive with 20 Changelings, she was now trying to survive. She needed love to survive, but most importantly, she needed a friend to be there for her.
Fate had some plans for them.
(They are foals.)
This story is written in the Team Awesome universe of Bonaxor and the story is based on a comic. In the comic they are foals, so they are also foals in my story. There are a few rules, which the creator of the comic told me to follow, and which I cannot break.
1. Ponies are afraid of Alicorns. They see them as monsters that can destroy the world.
2. Team Awesome never goes into town without a special disguise. It makes them look like other normal ponies.. just.. bigger.
- Celestia is a Unicorn in her disguise
- Luna is an Earth pony
- Dream (Nightmare Moon) is a Pegasus
- Discord a dragon
- Cadance is a pegasus
That are the two giant rules.
This will probably be a feel good story.
Edited by the wonderful arandompenguin.
Chapters (4)