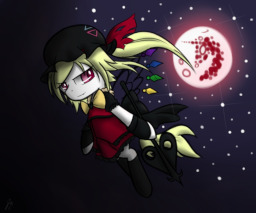 Source
Twilight Sparkle has been in Canterlot Castle a whole lot more with her becoming a princess and all, but one thing still bothers her: the basement. She's never seen it. On top of that, she's been told not to go down there. That won't stop her curiosity from getting the best of her, though. She's going to go down there, no matter what. But you know what they say: curiosity freed the 495 year-old Alicorn vampire devil with Christmas light wings!
_ _ _ _ _ _ _ _ _ _ _ _ _ _ _ _ _ _ _ _ _ _ _ _ _ _ _ _
Originally written by Dunsparce but he deleted it due to lack of interest. It was transferred over to my account to finish it after his retirement. The only parts not written by me are The Dark Side of Fate and a portion of A Soul as Red as a Ground Cherry, so there may be a slight shift in prose.
Chapters (1)