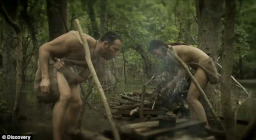 A surprise storm shatters reality for several hundred young college students. Follow the actions of the members of a small, but dedicated group of people as they strive, compromise, and sacrifice in the name of survival and hopefully, a nonviolence truce with those whose nation they have entered.
DISCLAIMER: many of the events depicted herein may cause some anger and confusion. Rest assured that all wrongs WILL be righted eventually. If something does not make sense, feel free to P.M. the author. He will almost always respond.
There are some similarities between this story and the exquisite works that partly inspired this story: A Voice Among The Strangers by Tystarr and also Misunderstandings by The Rogue Wolf. )
Rated Teen for foul language, racial slurs, violence, blood, sexual words and descriptions of sexual organs (but no sexual situations or sexual contact), as well as physical and mental anguish. This is not for children.
Pic is from the Discovery Channel series Survival Of The Fittest.
Chapters (41)