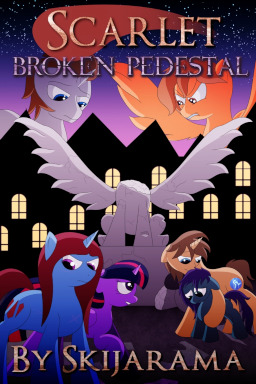 This story is a sequel to Scarlet
---
THIS STORY HAS BEEN CANCELED. Click here for the blog post explaining why.
It has been a long and arduous journey for Scarlet Frost and her found family, and they are all ready to settle down in their new home, Sanctuary, for a quiet, peaceful life. Unfortunately, fate is a mistress seldom sated, and all too soon, the peaceful life Scarlet yearns for is ripped away from her. When Princess Twilight Sparkle, a legendary mare seen as a goddess, calls on her to aid in a mission to right the wrongs of the Fall, Scarlet feels compelled to heed the call.
With the return of the Princess and her five friends, the world stands on the brink of sweeping and irrevocable change. Whether or not those changes are for the best, however, remains to be seen. What is certain is that the world has ever been unreceptive to change, and the ghosts of Scarlet's blood-stained past shall cry out for justice before the day is done.
---
A special thank you goes out to my editors, Mister Hypothetical and Chromio!
Chapters (10)