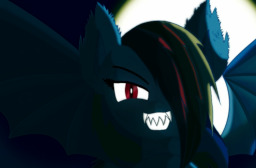 Her attempt at a Sonic Rainboom. Failure. Crashes in the Everfree and lands next to the Castle of the Royal Pony Sisters. Well just fly out, you may say. But guess what; her wing is torn.
Dash loses consciousness under the impact, but lastly sees a predator of the night. Guess what, it had fangs. Dash is a goner.
She wakes up though. However, she was not set free unchanged. And her hostage pony is still with her.
* * *
A bloody gore story. You can guess the rest.
Chapters (6)